Propane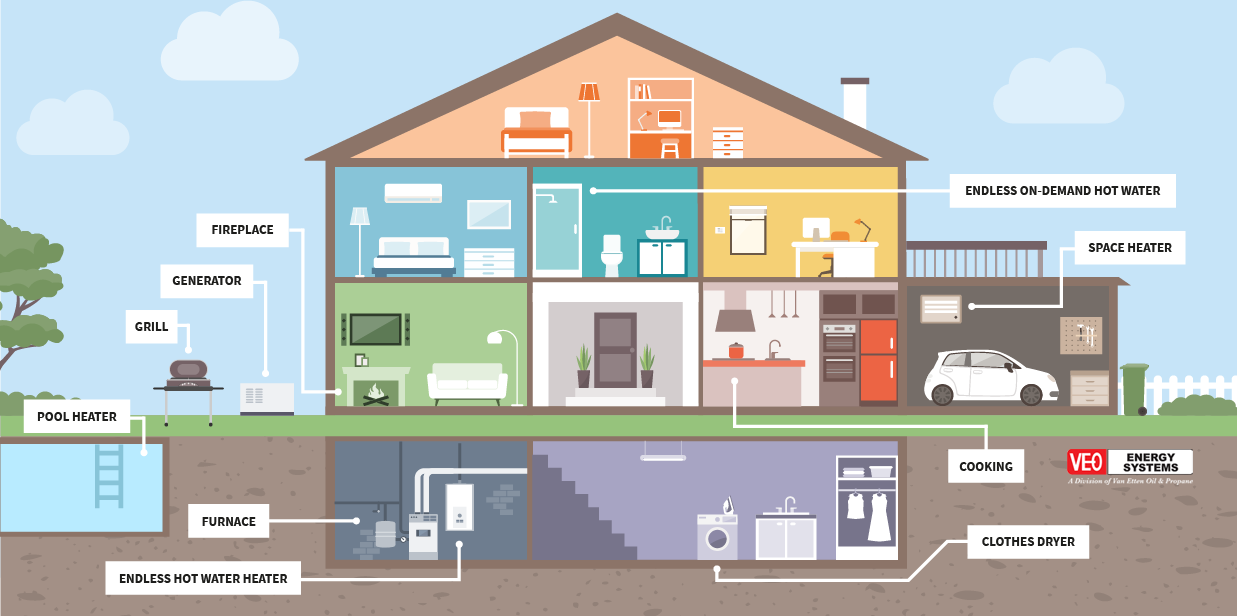 ONE FUEL THAT DOES IT ALL
Looking for a multi-use energy option that can keep up with the demands of daily life in your household? Propane is the solution you've been waiting for. Produced in the United States, propane is a universal, eco-friendly fuel that meets all EPA clean air energy standards.
Since 1944 we have focused on providing our customers with the best personalized service in the area. Homeowners across the Hudson Valley and Catskill regions rely on ultra-efficient propane as their primary energy source. If you live within our service area, choose VEO Energy Systems as your propane provider to take advantage of top-quality delivery and system services from season to season.
Top-Quality Propane Equipment
VEO installs the latest and most modern, efficient and high-demand propane equipment in today's marketplace. We have a wide range of propane equipment to choose from to fit your family's home comfort needs. See how affordable, versatile propane can power your New York home!
Commercial Propane Service
Propane isn't just for homeowners! Business owners across the region trust this superfuel to power a wide range of essential applications. Restaurants, apartment complexes, and commercial enterprises are just a few of the companies that rely on propane to get the job done.
Why NY Homeowners Choose Propane
When it comes to comfort, you might think of electric first. But do you know the many advantages of adding or replacing a propane appliance or heating system? Electric simply can't match these valuable benefits:
Endless On-Demand Hot Water
1/3 the Cost of Electric Hot Water Heating
Environmentally-Friendly
Gas Cooking Appliances
Easy Care and Operation
Even Heat and Fast Recovery
Energy Efficient
One Source, Multiple Uses
Minimal Annual Maintenance
VEO Supplied Propane Tank(s)
Domestic Production, Largest in the World
Contact the specialists at VEO Energy Systems to learn more about the perks of propane or to schedule a free energy savings analysis.