The Secret To Great Service
The Secret To Great Service…Happy Employees!
Eli Van Etten, Jan Van Etten, and Robert Van Etten
At VEO Energy Systems we believe that great service starts with great employees – people who care, and who have desire and experience to do the job right. Employees who feel they're treated well and fairly will treat customers the same way. An experienced employee will be more likely to do each project right the first time, avoid repeat visits and advise customers.
That's why we encourage our people to think of their work as a career, not just a job. The result? Our employees have been with us an average of 25 years. It's even common for employees to be with us long enough to retire, which is pretty rare these days.
Generation after generation, our family owned company has kept up this tradition of employee appreciation. We're proud of all of them and the work they do. In the end, it is their pride and professionalism that provide customer satisfaction and success at VEO Energy Systems.
Jan S.Van Etten
President – Van Etten Oil
VEO Energy Systems
A division of Van Etten Oil Co., Inc.
Serving You Since 1944!
For three generations, Van Etten Oil Company has been providing quality fuels and service to our customers. In the late 1920's Richard Van Etten worked for the Texas Company (Texaco) as a salesman and bulk plant agent. Ten years later he was promoted to consignee of the Texas Company's plant located next to the Monticello N.Y. train depot. In 1944, Mr. Van Etten founded Van Etten Oil Company with an 800 gallon, 1938 Chevy tank truck to serve the Sullivan County area with quality motor fuels and lubricants.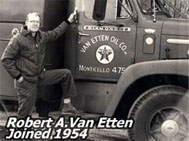 Richard Van Etten's son, Robert Van Etten, joined in 1954 and continued to expand the company. He started the oil burner service department, still located in the old rail-station, to further meet the needs of Van Etten Oil customers.
In 1971 Richard's youngest son, Jan Van Etten, joined the company. Jan developed the VEO Express Lanes ExxonMobil convenience store chain, the first of its kind in Sullivan County. Jan Van Etten is the current President of Van Etten Oil Company.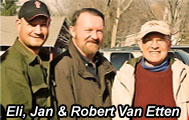 Today Van Etten Oil is closing in on 80 years of service. Jan's son, Eli Van Etten, has followed in the family tradition and joined the business in 1998. Eli Van Etten is the Vice President of the company. Eli Is the current President of the Empire State Energy Association (ESEA) and a former President and current board member of the Hudson Valley Oil and Energy Council (HVOEC). Eli is also a board member of the NY Propane Education & Research Council (NYPERC). Eli has developed the VEO Energy Systems brand with the 2010 introduction of the company's propane gas services. Throughout the decades VEO has expanded while not losing sight of the satisfaction of serving our customers' needs.